About the Studio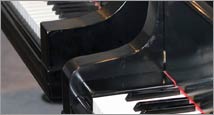 Find out more about the Janovsky Studio!

FIND OUT MORE!
---

Discography
Discover Martin and Jana Janovsky's entire musical journey through the years in their diverse recorded catalog.

FIND OUT MORE!
---

Contact Us
Email, call, connect or find the studio.

CONTACT US!
---

Biography
Martin Janovsky
Born in Czechoslovakia 1958 Martin Janovsky is one of Saskatoon's most gifted and hardest working entertainers. Janovsky's stage performance consists of music and comedy. Travel with Martin around the world as he takes you on a musical journey through different countries and styles. From ragtime to classical medleys, the sound of the sweet French accordion to the contemporary piano hits of the 21st century with a touch of melancholy Andrew Lloyd Webber classics, Martin's repertoire is accessible to any listener.
Experience
Martin Janovsky studied piano and composition at the Conservatory of Prague before touring Europe extensively with his own trio. He graduated from the Prague's Conservatory in 1978 and spent 2 years at the Academy of Music before touring Europe extensively, first with the Prague Big Band and later, then with his own trio. He holds the Licentiate diploma of Trinity College of music in London England.
After a stint in 1984 as house pianist in the Le Loiusiana Cabaret in Saint Malo, France, Janovsky moved to Canada and launched Hipcheck. Two years later things began to pick up when Janovsky and his band Hipcheck were asked to be the house band at the Saskatchewan Pavilion at Expo '86 in Vancouver. While at Expo, Martin formed some lasting musical connections, among them Billy Andrusco and singer Henri Loiselle. His association with both men continued when he returned home, and performances with Loiselle and The Billy Andrusco Trio were soon added to his already busy schedule with Hipcheck. Throughout his hectic performing schedule, Martin also made time to compose. He has written for The Jeux Canada Games, the Grand opening of Saskatchewan Place, the 1991 Canadian Junior Figure Skating Championships, and the 1992 Saskatchewan Summer Games. He also started Janovsky Studios to teach and tutor students in Classical and Jazz music.
Performance Style
Janovsky's stage performance consists of music and comedy. The comedy revolves around Martin's (supposed) misunderstanding of the English language. Being new to Canada he finds it hard to understand our language (or so he would have you think). Martin Janovsky finds new meanings in old sayings. Martin's first love is the piano and when he touches the keys the high energy performance really comes alive. The repertoire consists of novelty songs and some traditional songs from his home country.
Martin's 'clean', non-offensive humour has made his one man musical comedy show a hit with audiences of all ages. His comedy performance adds class to any event. Martin performs in a tuxedo and an added touch is to use a grand or baby grand piano for the performance.

Quote
"As a pianist he is absolutely remarkable, and combined with his comedy he was a real hit—we heard nothing but rave reviews!"
- Alberta Irrigation
---

Janovsky Acts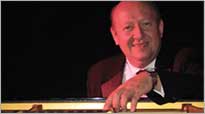 Martin's love of music and performing means that he has always had a lot of musical projects in the works.

FIND OUT MORE!
---

Upcoming Live
Find upcoming perfomances of Martin, Hipcheck and the Martin Janovsky Orchestra.

FIND PERFORMANCES!
---